IO-Link

What is IO-Link?
More and more sensors and actuators today are already equipped with microprocessors which are used, for example, to control indication, for parameterization and the storage of configuration data. The obvious next step is therefore to overcome the bottleneck of the binary standard interface and make additional functions centrally accessible for the automation system.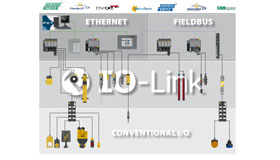 IO-Link System Overview - klick to enlarge -
For this reason a lot of well-known manufacturers from the field of automation have come together and developed a fieldbus independent communication interface for sensors and actuators:
IO-Link. Compatibility with existing technologies was the primary objective during development in order to guarantee investment protection.
Technology
IO-Link is based on a point-to-point connection between the sensor/actuator and an interface module. Up to now, the binary connection was only designed for transferring switching information, but IO-Link now allows two bytes to be transferred normally in a 2 ms cycle via a combined switching status and data channel. Other information can be exchanged in addition to the process values, such as parameters or diagnostics messages. This enables communication with sensors and actuators down to the "last meter" to be established for universal communication.
IO-Link is Opening the Door to Industrial Internet of Things